Almost everyone on Instagram makes a purchase decision based on what they see on the app. Seriously, it's 72% — that's well over half. Considering that Instagram is home to over a billion active users, that's at least 720,000,000 people. And most of those 720M people spend almost a half-hour each day scrolling through IG.
This gets even more surprising when you compare to other social media giants:
 
| | |
| --- | --- |
| Social Media Platform | Influence On Shopping Habits |
| Snapchat | 1% |
| Twitter | 3% |
| Pinterest | 22% |
| Facebook | 23% |
| Instagram | 51% |
 
The biggest takeaway is that Instagram is THE place to market your brand. There's no doubt about it. And affiliate influencer marketing is the way to get a seat at the head of the table.
So let's dive into affiliate influencer marketing and how it can help brands (just like yours) grow faster. Here's what's inside:
 
What is affiliate marketing on Instagram?
Instagram affiliate marketing is a partnership between brands and  influencers. Influencers promote a brand's products or services on Instagram to their followers. In exchange, brands pay influencers a commission based on sales or clicks generated. Brands and influencers may go through an affiliate network to facilitate these partnerships.
Even if you aren't familiar with the ins and outs of affiliate marketing, you may have noticed it already on IG: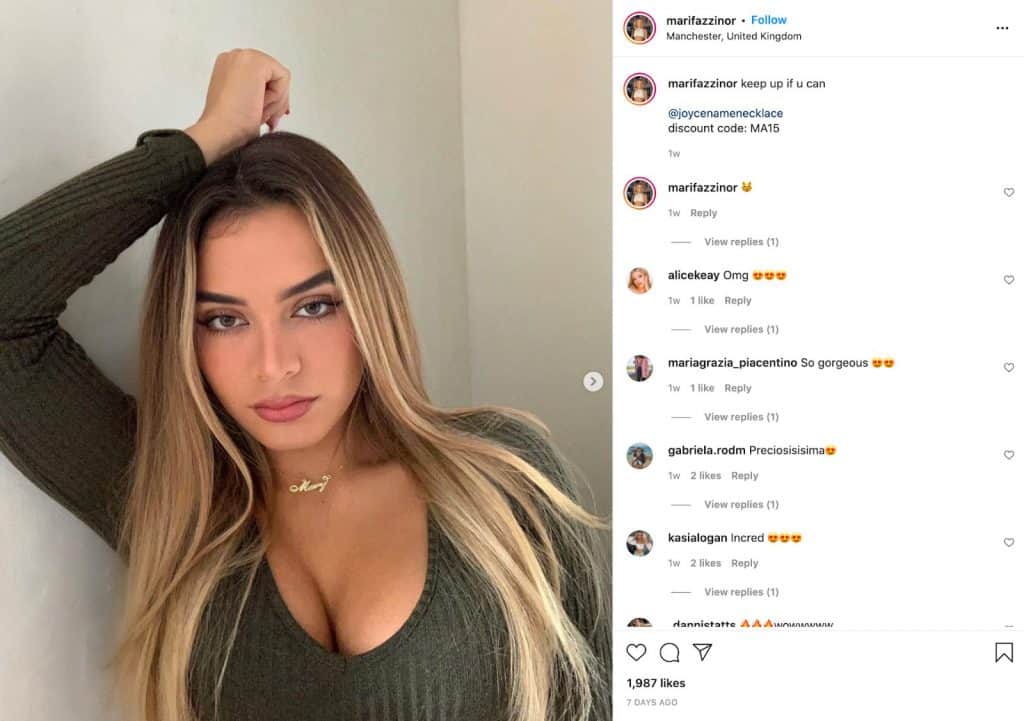 You'll notice that brands usually use one of two ways to track sales generated by influencers.
 
Unique discount codes
The brand generates one unique code per influencer

For example, KARDASHIAN30

Each influencer shares their code with their audience on social media

Followers use the discount code at checkout when they make a purchase

Brands can then see how many followers made a purchase using that discount code
Trackable links
The brand generates one trackable link per influencer

For example, https://website.com/kardashian30

Each influencer shares their link with their audience on social media

Followers click the link to make purchases online (they may or may not receive a discount)

Brands can see how many followers made a purchase.

And

brands can track more customers throughout their purchase process
Both methods are valuable. But trackable links give brands more insight into how customers behave.
 
How affiliate marketing works:
Brands can choose to execute affiliate marketing themselves, or through an affiliate network.
An affiliate network is the "middleman" between brands and influencers. Influencers sign up with a network as an affiliate for a certain brand. They receive an affiliate link. Then the network tracks their sales (and earnings). In short, affiliate networks make it easier for brands to find and pay influencers.
But, brands that run their own affiliate marketing programs have more control. There's more freedom to manage the campaigns and programs. And brands that DIY get to save on registration costs and other affiliate network fees.
No matter which method you choose, here's how most affiliate marketing programs work:
Each influencer gets their own trackable link

An influencer adds that link to their sponsored content. IG Stories, IGTV descriptions, IG bios, and so on

Those links track exactly how many clicks and sales an influencer generates

An influencer earns a commission each time someone clicks that link and/or makes a purchase
 
The commission an influencer makes depends on what the brand wants to pay. But in general, it's somewhere between 10% and 20% of each sale.
For example, an IG follower clicks an influencer's affiliate link and makes a $100 purchase. The influencer then earns a $10 – $20 commission.
And there's more than one way to structure your commission model:
 
Pay per click affiliate marketing
You pay an influencer each time someone clicks their affiliate link

$ for website traffic

Risky for new brands
Cost per acquisition affiliate marketing
You pay an influencer each time someone clicks their affiliate link and makes a purchase

$ for website sales

Safer for new brands
Influencers can use trackable links (and unique discount codes) anywhere online. This includes YouTube, TikTok, Twitter, and Facebook. But it's especially effective on Instagram because:
IG has static image and video content

IG is free and has over a billion active users

IG supports most major affiliate networks
Plus, Instagram is where most of the influencers are 😉
How brands benefit from affiliate marketing on Instagram
Nearly 80% of brands have affiliate programs. And it's estimated that affiliate marketing spend will grow by 10% or more in the next decade.
It's clear that brands love affiliate marketing. But what are they getting in return for each dollar they spend?
 
More reach
Instagram influencers have earned the trust of hundreds to thousands of followers. And when brands partner with IG influencers, there's an opportunity to:
Reach relevant audiences

Earn their trust

Convert followers into customers
When you invest in IG influencer affiliate marketing, you increase your reach. This is because you use other people's social media accounts to run your campaign. And this in turn exposes new people to your message.
 
More engagement
You earn Instagram engagement when followers interact with your content. This can be likes, shares, comments, and so on. And engagement is what builds brand awareness, and makes sales, like no other.
Here's the thing, though. Organic engagement is the best kind of engagement, and it's hard to get. Here's why:
When brands promote themselves, it doesn't feel authentic

When influencers promote brands, it feels like a genuine recommendation
One is like a fitness instructor knocking on your door in the middle of the night and shouting their own name. The other is like your best friend telling you about the exciting gym membership they bought.
Can you feel the difference? Because Instagram users sure can 🤭
Plus, affiliate influencer marketing helps create user-generated content (UGC) for your brand. And trust us, UGC is like a gold mine. It builds trust, it feels more organic, and it skyrockets brand awareness.
 
More quality partnerships
Affiliate partnerships are long-term by design. They're meant to last longer than one-off influencer marketing campaigns because they:
Build more trust with followers

Save time and money for the brand

Benefit Instagram influencers
In short, everyone wins.
Followers get to connect with new brands. Influencers get to earn a commission. And brands get to make more sales.
Top tips for finding quality affiliates
Even if you use an affiliate network, it's still on you to find high-quality affiliate influencers. This means rolling up your sleeves and getting your hands just a little dirty.
To get started, here are some tips for finding affiliates who kick you-know-what:
 
#1: Choose a niche
Research your target audience. Figure out how old they are, what their interests are, and where they're located. Don't forget to find out what motivates them and what gets them to convert.
Use your audience research to reverse engineer finding influencers. You want to find an influencer that has the same audience as you.
Streamline this process with tools like Humanz AI (and get access to real, accurate data). Humanz lets you search affiliate influencers by interest, niche, and more. Plus, you can use filters to find influencers by location, engagement rate, and more.
 
#2: Pay attention to engagement rate
When it comes to finding affiliate influencers, engagement rate is everything. Remember, the higher the engagement rate, the better your campaign performance.
Always double-check influencer engagement rates. They're surprisingly easy to fake. Not to mention, influencer fraud will waste your time and affiliate marketing budget.
Compare influencer engagement rates against benchmarks. For example, a good engagement rate for a micro influencer isn't the same for a macro influencer. Check it out:
 
| | |
| --- | --- |
| Type of IG Influencer | Average Engagement Rate* |
| | 1.7% – 5% |
| | 1.4% – 1.7% |
| | 1.3% – 1.6% |
Psssstttt! Did you notice that nano influencers and micro influencers have higher engagement rates compared to macro influencers?
*Based on data between 2018 and 2020 
#3: Check for websites and blogs
Not every Instagram influencer is in the affiliate game full-time. Some influencers use affiliate marketing as passive income. Or as a way to support other earnings.
Of course, there's nothing wrong with this — and it works for lots of brands and influencers. But part-time affiliates may not be as motivated as someone who does it full time.
Look for IG influencers who also run affiliate websites or blogs. This is hands down the easiest way to suss out the full-timers from the part-timers. Chances are, influencers with affiliate websites solely rely on commissions.
How to set up an affiliate program (step-by-step)
The truth is you'll need some elbow grease to get an Instagram affiliate program started. But with the right tips, you can get it done in five easy steps — here's how:
 
#1: Choose an affiliate network
Affiliate networks are the easiest place to connect with influencers. Some of the most popular networks that Integrate with Instagram include:
AWIN

Clickbank

CJ Affiliate

MaxBounty

Pepperjam

Rakuten

ShareASale

ShopStyle Collective

Skimlinks

And more
These networks connect brands and influencers and facilitate partnerships. Such platforms let you:
Generate unique, trackable links

Track clicks and sales

Structure commissions (pay per click or cost per acquisition)

Process commissions

Search affiliate influencers
You can also use influencer platforms like Humanz AI to manage affiliate campaigns. Humanz uses its own algorithms and APIs to find influencers — without Facebook.
This means you have access to real data. You can weed out influencers with suspicious account activity or fraudulent engagement rates. And you can access breakdowns by influencer and create custom reports that show you:
Top posts

Impressions

Engagements

Link clicks

Audience demographics

And more
NEWS UPDATE: Instagram announced its own native affiliate program — jump to read more.
#2: Decide your commission rate
As you already know, there are two ways to structure your affiliate marketing program. You can pay influencers a commission based on how much traffic they drive to your website (pay per click). Or you can pay them a commission that's based on how many sales they make (cost per acquisition).
Most brands choose to pay based on sales generated, and most brands pay between 10% and 20% per sale.
But your commissions are completely up to you. Your profit margins may only allow you to pay 7%. Or maybe you have to match competitors that pay 25%.
 Affiliate Marketing Pro Tip: How you pay influencers may reflect on your brand. For example, high commissions may attract higher quality influencers (and vice versa) 🏆🏆🏆 
#3: Create an affiliate program (and make it attractive)
If your Instagram affiliate program isn't a compelling one, influencers won't join. And you've got to come up with ways to keep the partnership growing over time. Here are some ideas:
 
Tiered rewards
As an influencer sells more, they unlock higher commissions.
 
Recurring percentages
Influencers keep making a percentage off subscription-based sales.
 
No commission caps
Influencers can earn up to some percentage of a sale, with no maximum.
 
The better your program is, the higher your chances of building strong relationships. But remember, the partnership has to work for you, too. Pay attention to profit margins and how commissions can affect your bottom line.
 
#4: Find influencers that make sense
The influencers you partner with will impact your brand, so it's important you choose wisely. Start by screening influencers against the criteria:
Niche

Target audience

Engagement rate

Experience with affiliate marketing
It's almost impossible to do this kind of research by hand. Instead, use tools available in your affiliate network platform. Or use Humanz AI to filter and sort through influencers.
 
Affiliate Marketing Pro Tip: More than half of all influencers commit influencer fraud. Be sure to vet each influencer's stats to make sure you don't put your eggs in the wrong basket.
 
Once you've found the perfect affiliates, it's time to launch your campaign on Instagram. And no matter how you manage the campaign, make sure you can track each affiliate accurately.
 
#5: Analyze and adjust as you go
After your campaign launches, check on the analytics from time to time. Read through your affiliate network reports to make sure everything's looking right. And don't be afraid to make adjustments based on what the data says.
For example, if you notice one of your affiliate influencers isn't performing as well as the others, talk to them. See if you can work together to find content that resonates with your target audience better. Or consider finding another affiliate to take their place.
It's all about making strategic decisions based on real data. The more information you have, the better off you (and your customers) will be.
Affiliate marketing examples to inspire your next campaign
About four in five brands invest in affiliate marketing. So it's no surprise that retail giants like Shein are taking it to a whole new level. Check out their affiliate programs and content on Instagram:
 
Shein
Affiliates earn up to 5% per sale in commissions

Cookies last up to 30 days
Pretty Little Thing
Affiliates earn up to 8% per sale in commissions

Cookies last up to 30 days
Urban Outfitters (UO)
Affiliates earn 2% per sale in commissions

Cookies last up to 30 days
News Update: Instagram announced the native affiliate program tool launch
Instagram rolled out its own native affiliate tool for creators. This means IG creators can earn commissions for each in-app sale they generate 🥳
But since the IG tool is so new, there are some limitations:
IG's program is only available to eligible creators and select brands right now

Creators can only earn commissions on products available through Instagram Checkout

Instagram charges transaction/shipping fees for each sale

Brands can't access customer data (like email addresses) for sales made through IG
Despite this, many brands will find IG's affiliate tool beneficial once it expands. This is because the program has the potential to:
Drive more in-app sales

Convert followers to customers faster

Close the gap between brands and customers
While you wait for the program expansion, you can take advantage of other tools like:
Link trees ("link in bio")

Instagram's other e-commerce tools (Instagram Business, Instagram Shopping)

Shoppable links in posts and content descriptions
 
Final thoughts: Affiliate marketing on Instagram
Affiliate marketing is here and it's only getting bigger and better by the minute. As influencers make their way into the affiliate marketing space, it's time for brands to catch on.
So here's a recap about affiliate influencer marketing on Instagram:
Nearly 80% of brands already leverage affiliate marketing

Partner with an affiliate influencer for more reach, engagement, and brand awareness

You can set up an attractive affiliate program in five easy steps

Make sure you can track affiliate marketing campaigns with real data
Subscribe to our newsletter so you don't miss out on exciting updates and more.