Do you want to sell more products on Instagram?
 
Of course you do! Who doesn't want to make more sales???
Now, the key to unlocking more $$$ on IG is through a little something called shoppable posts.
Shoppable posts (and stories) let marketers tag products in content. Shoppers can then tap those tags to learn more about that product. Best of all? If shoppers can then BUY products without ever leaving the app.
If it sounds revolutionary, that's because it is. And we're about to spill all the tea, so buckle up!
What are shoppable posts on Instagram?
The Instagram shoppable feature lets brands tag products directly in content. Customers can then tap those tags to:
Discover additional product details

Visit the brand's website

Or purchase the product via Instagram Checkout
Yeahhhhhh … so that's huge because it cuts the buying journey in HALF.
Think about it. A customer sees your post, they like the product, they tap the tag, they buy it. And all this happens without ever leaving Instagram.
Best of all, there are two ways to post shoppable content.
Shoppable Instagram posts …
And shoppable Instagram stories …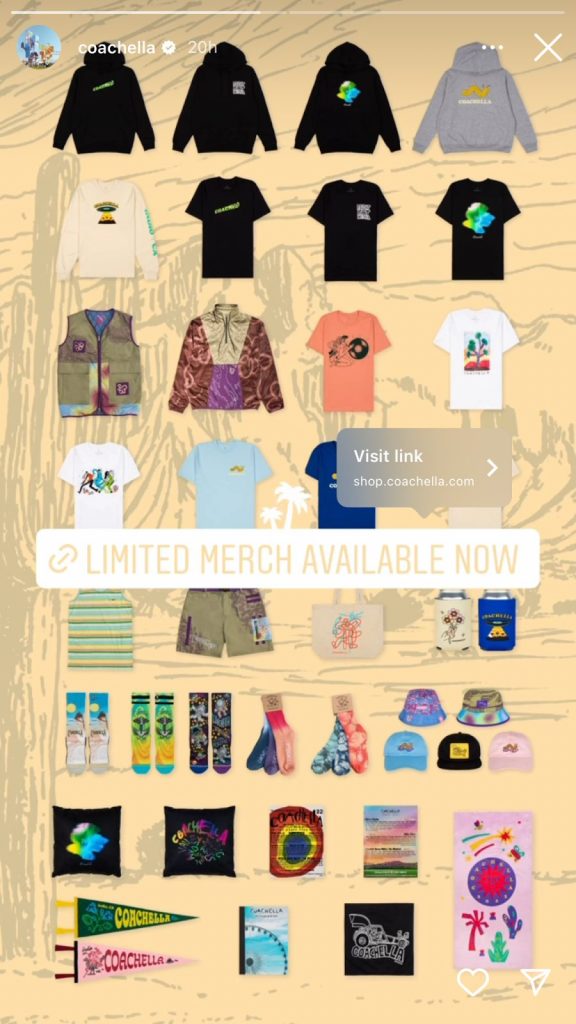 And before you ask, YES we recommend using both kinds of content 😉
 
 
Is my brand eligible for Instagram Shopping?
Not every account is eligible for Instagram Shopping. You gotta jump through a few hoops first but honestly, it's pretty straightforward. Here's how to add shopping to Instagram:

#1: Sign up for an Instagram business account
You probably already have a business account. But just in case you don't, here's how to switch your personal account over:
Open IG on your phone

Tap your

profile photo

in the bottom right

Tap the

hamburger menu

Tap

Settings

then

Account

Tap

Switch account type

then follow the on-screen instructions
#2: Be located in one of four major regions
Instagram Shopping isn't available (yet) in every country. But it is available to businesses located in four major regions. Here's the complete list according to Instagram:
#3: Connect your Instagram to your Facebook
Even if you don't plan on using Instagram Shopping, it's a good idea to connect your IG and FB accounts. When you link them, you can share content across apps without switching.
Anyway, if you haven't already connected your profiles, here's how:
Open the Instagram app and tap your

profile photo

in the bottom right

Tap the

hamburger menu

in the top right

Tap

Settings

Scroll down and tap

Accounts Center

(it's underneath the Meta logo)

Tap

Set Up Accounts Center

Tap

Add Facebook Account
Log in or select an account

you want to connect

Tap

Yes, Finish Setup
That's it! Super easy and you can do it all from your phone.

#4: Comply with IG's merchant agreement and commerce policies
There's a long list of legal stuff brands have to comply with if they want to sell on Instagram.
The good news is, most of it's common sense like "don't misrepresent your business on Facebook or Instagram."
But it's worth reading through the merchant agreement and commerce policies just to cover yourself.

#5: Upload your product catalog
How are you gonna sell goods if you don't list any goods?
There are two ways to get your product catalog up on Instagram.
You can go full on DIY and manually add items through Facebook Business Manager. Here's a quick rundown on how to do this:
Sign up for a

Facebook Business Manager

account

Log in then go to

Commerce Manager

Click

Get Started

Select

Create a Catalog

then click

Get Started

again

Choose the kind of product you sell and click

Next

Click

Upload Product Info

Choose a name for your catalog and click

Create

Then, add all your items one by one
Or you can integrate your Instagram shop with your preferred e-comm platform like:
Shopify

BigCommerce

ChannelAdvisor

Zentail

OpenCart

WooCommerce

And more
Here's how to get started with this method:
Sign up for a

Facebook Business Manager

account

Log in then go to

Commerce Manager

Click

Get Started

Select

Create a Catalog

then click

Get Started

again

Choose the kind of product you sell and click

Next

Click

Connect a Partner Platform

and follow the instructions
Once you're connected, submit your account for approval:
Go to

Professional Dashboard

Tap

Set Up Instagram Shopping

Tap

Get Started

Choose a catalog

Review your selections then click

Submit For Review
Then after you're approved, you have to activate Instagram Shopping:
Open your IG business account in the app and tap the

hamburger menu

Select

Settings

Tap

Business

then tap

Shopping

Choose a catalog then tap

Done
 
What's included in Instagram Shopping?
There are FIVE major parts, so let's talk about them.
First up, we've got Instagram Shop. This is YOUR place to sell, and you can think of it like a digital storefront on IG. This is where customers can browse your products and explore collections. Speaking of …
Next up is something called Collections. This is a way to organize products into a curated experience. For example, you can highlight new arrivals, organize products by season, and so on.
Third is Product Detail Pages, or PDPs. These are like individual landing pages for each product in your Instagram Shop. This is where you can include details like pricing, specs, and so on.
We've also got Product Tags. This is how to add Instagram shopping tags to products in your catalog. Shoppers tap these tags to learn more about that product.
Lastly, there's Instagram Checkout and it's LITERALLY THE BEST. This feature lets shoppers purchase directly through IG (instead of going to your website). It's Instagram's social commerce solution and we HIGHLY RECOMMEND you take advantage of this.
NOTE: Currently, Instagram Checkout is only available to eligible shops in the US.
How do people use the Instagram shoppable feature? How does Instagram shopping work?
 
There are three primary ways IG users shop products in the app.
Shoppers can tap on organic product tags. We've already talked about these earlier in this guide. But basically you tag products in posts or stories. Shoppers tap the product tag. They're taken to a PDP to learn more about that product, and can make a purchase if they want to.
Shoppers can also tap on paid product tags, or ads with product tags. So if you run ads on Instagram, you can include product tags in those ads. Use the Ads Manager to figure out how to add price tag on Instagram.
Lastly, if you use Instagram Checkout, you can announce product launches. This lets shoppers preview upcoming product drops. Shoppers can also set reminders to buy as soon as products launch on IG.
Can you use Instagram for social commerce and/or e-commerce?
Yes! A thousand times, yes!
Instagram is the ULTIMATE tool for brands that sell via social commerce and/or e-commerce.
Wait a minute … what's the difference between social commerce and e-commerce?
Great question!
E-commerce is a general term for buying and selling products online. Usually e-commerce happens through marketplaces (like Amazon). E-comm also happens through individual websites, typically with the help of e-commerce partners (like Shopify).
Social commerce is a special kind of e-commerce that happens strictly through a social media app like Instagram, Facebook, TikTok, and so on. Basically, instead of a shopper leaving a social app to make a purchase through a brand's website, they stay in the app.
Remember how we talked about Instagram Checkout? THAT'S social commerce at its finest. Shoppers discover and buy products without ever leaving IG. Brands then receive payment through services like PayPal for each order.
If you aren't in an area where Instagram Checkout is available, you can still have a shop. But when shoppers are ready to buy, they see View On Website instead of Add To Cart. This means shoppers are taken out of Instagram, and taken to your website. So, this doesn't count as social commerce. It's e-commerce.
How to create shoppable posts on Instagram
Once you've got your Instagram shop set up, it's time to make shoppable posts (or stories). So, here's exactly how to make shoppable posts on Instagram:
First, create a new post or choose one you've already posted. Then, tap Tag Products from the tagging menu.
Tap on the image you want to add a product tag to. Enter the name of the product you want featured. Tagging a product works pretty much the same way as tagging a person. When you've added the product tag, tap Done then Preview then Share. You can do this for single image posts, and carousel posts.
If you want to make a shoppable story, first tap the sticker icon. Then tap the Product link sticker and choose the product you want to tag. When you're ready, hit Publish.
 
 
Tips on how to make shoppable posts on Instagram that PERFORM
 
#1: Partner up with relevant creators
There is MAGIC in creator partnerships. Creators know your audience, and they've got your audience's attention. So partner up with them for some content collabs and shoppable posts to unlock the power that is Instagram Shopping.
#2: Show off your products (in action)
Use stories and video posts to showcase your products. If you own a clothing brand, post videos of models wearing your clothes. If you're a marketer for a food brand, post video content with recipes. Get creative and get in MOTION!
#3: UGC, UGC, UGC
User-generated content is the ultimate way to get your audience engaged. Plus, it puts your customers in the spotlight. Who better to talk about your products than people who already love them?
#4: Use ALL shoppable content formats
Instagram lets you tag products in stories, posts, reels, live streams … pretty much anywhere you can post content, IG lets you tag products. So do it! Experiment with different formats to find out what resonates with your audience.
#5: Get it together with an IG Guide
If you use Collections, you should also use Instagram Guides. This unique feature lets you group together shoppable posts into a helpful guide for shoppers. So if your audience is into baking, you could put together an IG Guide all about "top kitchen hacks" with posts featuring relevant products.
#6: Incentivize your audience
Discounts, promo codes, exclusive promotions, sales, you name it! Take the edge off trying a new product with a little incentive. Deals are especially helpful around the start of seasons, or the holidays. Plus, limited-time promotions help create a sense of urgency.
#7: Seal the deal with a creative CTA
Ahhhh yes, the call-to-action! It's what punctuates an effective marketing strategy. And it's a great way to encourage shoppers to take the plunge. Make sure your shoppable content has a clear CTA that's punchy, to the point, and persuasive!
Final thoughts on Instagram shoppable feature
Take. Advantage. Of. Instagram. Shopping. NOW!
Seriously, the Instagram shoppable feature is an effective way to earn more sales and build stronger relationships with your customers.
Here's a quick recap of why this is important, and how to pull it off:
IG Shopping is here to stay

Brands have to meet certain eligibility requirements to get in on IG Shopping

Shoppable posts have product tags that take shoppers from your content to a dedicated product page

Some shops can activate Instagram Checkout, which lets shoppers buy products in the app

Instagram shopping features help brands focused on social commerce and/or e-commerce
Want even more hot tips on social commerce and the power of Instagram? Check out the Humanz blog for guides, resources, and more.