There are 7.7B people in the world and nearly half of us are on social media. We spend hours a day scrolling and billions of dollars a year shopping online. Social commerce is just a mix of the two things we love the most.
 
What is social commerce?
Pull up a chair because we're about to serve up some social commerce realness 👏
 
In case you missed it, social commerce is buying and selling stuff on social media. This includes Instagram, Pinterest, Facebook, and so on.
 
If you can buy something on a social media platform without leaving, that's social commerce. This could be through an in-app advertisement. Or, it could be through creator and brand accounts that post shoppable content.
 
The key here is that the social media experience remains unbroken. Audiences don't have to leave Instagram and go somewhere else online to buy your product. It all happens inside the app — and that's what we call magic, folks.
 
Social commerce empowers audiences to complete the customer journey (from discovery to purchase) without disrupting the social media experience.
Why social commerce is so powerful
 
Social media is kicking everyone's ass because it trims all the fat from the customer journey. It shortens the gap between initial discovery to final purchase.
 
So instead of:
Find a product on Instagram

Search for it on Google

Find the online store

Search the site

Make a purchase
It's:
Find a product on Instagram

Buy it
Two steps instead of five!
 
And when shopping is easier, people are more likely to complete their purchase.

 
Difference between social commerce and ecommerce
Ecommerce is shopping on a brand's website or app like Neiman Marcus.
 
Social commerce is shopping on a social media app like Instagram.
 
They're similar in that it's all 100% online. But they're totally unique experiences.
 
Ecommerce is a strong model when it comes to desktop shopping. There are fewer abandoned carts and more completed purchases compared to mobile. But more than half of all internet traffic comes from mobile devices these days. So it's all about getting the best pocket-sized shopping experience possible.
 
Not to mention, social commerce is driven by people (if that's not clear from its name). It's all about engaging with creators and brands. Sounds simple, but it's a lot more than JUST shopping around a traditional website. There's more connection, there's more trust, and there's more excitement.

 
Which social media platforms are most effective for social commerce?
All the big platforms already have social commerce tools, or they're hopping aboard as we speak. But when it comes to what's working right now, it comes down to three major players:
 
 Facebook (Facebook Shops)
Social commerce feature inside Facebook

Brands can easily set up a Shop for free and hook it up to their business profile

If you use a compatible platform, sync your ecommerce site with your Facebook Shop

If you don't use a compatible platform, upload everything to FB with a spreadsheet

Shoppers can make a purchase through your Facebook Shop or website

Brands and shoppers can connect through FB Messenger
Instagram (Instagram Shopping)
Instagram Shopping hooks up to your Facebook Shop. So to have an IG Shop, you have to have a FB Shop, too

Link your Facebook and Instagram business profiles together

Then sync your inventory up and/or add new items

Create shoppable posts (we LOVE this and so do Instagram users)

Shoppers can make a purchase through your Instagram profile, or through your website
TikTok (TikTok for Business)
TikTok is new to the game but they're catching up FAST

Create shoppable ads

Or make shoppable storefronts for TikTokers to browse via the Shopping tab

Sync your inventory and add new items

If you use a compatible platform, you can sync your ecommerce site with your TikTok shop
BONUS: Pinterest (Product Pins)
So we're throwing Pinterest in here because they're really, really close. Obviously, Pinterest has tons of great features for brands. But technically, they don't have direct social commerce tools.
 
Brands can create Product Pins that list photos, descriptions, and other details. But it all ends when a shopper clicks on a Product Pin. They're taken off-platform to your ecommerce website to keep exploring or make a purchase.
 
So … not social commerce … but still a valuable tool worth mentioning 😏

 
Top 5 key benefits of social commerce for brands
Alright, now it's time for the good stuff — why you should care about social commerce as a brand, a marketer, or an agency.
 
#1: There are SO many people
We're talking billions and billions of people all over the world. And there are more and more people signing up for social media every day.
 
So whoever your target audience is, chances are they're on at least one of the top social media platforms. You just gotta find them and make them fall in love with you. The bad news is that it's not easy, you need a strategy. But the good news is that it's simple because:
 
Social Media Users Who Made At Least One Social Commerce Purchase

Age

%

18 – 24

55.5

25 – 34

48.7

35 – 44

44.3

45 – 54

39.2

55 – 64

37.5

65+

34.3
 
Nearly half of everyone 34 and under has made at least one purchase via social media. And about a third of everyone 35% has, too. That means Gen Z, Millennials, Gen X, and Baby Boomers are all over this phenomena (and so are we 🎉).
 
This increases your chances of getting in front of your core audience. And it increases your chances of finding new audiences, too.
 
Plus, platforms like TikTok make it possible to go viral overnight. This means you could wake up to a sold-out inventory. Just saying.
 
#2: Better brand awareness
There's nothing better than a nice, hot, steaming cup of brand awareness first thing in the morning. And you know who makes the best brew? Yep, it's social commerce and here's why:
Social commerce puts your brand in front of audiences, and keeps them there

Shoppers don't have to leave the app to find your store

You have a better idea of who your customers are (and where to find them)

Brands can make shoppable posts that attract new users

You get to reminder shoppers about your products
It's the perfect ecosystem for big, small, legendary, and new brands alike.
 
#3: It's easier for shoppers
We like things that are easy. So the less friction there is, the more likely we are to do it. This applies to social commerce, too. And that's why social commerce has fewer abandoned carts and lower checkout abandonment rates than traditional ecommerce.


Social commerce greatly reduces the friction between shoppers and the products they desire ❤️
Instead of redirecting a shopper away from your FB Shop, they have the option to checkout in the app.
 
Think about it this way. Would you rather someone bring you a warm cup of coffee while you're swaddled in bed? Or would you rather them rip away the sheets and send you outside for your brew? It's probably the first one, right? That's because staying in the same environment is comfortable, familiar, and frictionless.
 
#4: More reviews & recommendations
Social proof is a very special kind of social currency. It's a way to build trust, increase credibility, and reduce friction. So when customers leave reviews, it signals to other shoppers that the brand is safe.
 
So when shoppers are online, they can't exactly try your product for themselves. They have to rely on what others around them say (i.e. social proof).
 
Social commerce then comes into play because it connects all these dots:
Shoppers find your product online

They give it a try and share their experiences on social media

Other shoppers purchase your product because of the positive reviews

Some of them share their own experiences

Lather, rinse, and repeat
It's a closed loop that works like a charm especially if you throw influencer marketing into the mix.
 
#5: Insight into social habits
Since social commerce all takes place on social media platforms, you get to know who's buying from you. You can check out social profiles, analyze account demographics, and get a better understanding of who your customers are.
 
Not to mention, you compare these insights against your current marketing strategy. For example, maybe you've been marketing to men in their 30's, but it's actually men in their 50's who are buying your product. With this info, it's much easier to adjust your marketing strategy and better cater to your core audience.
 
And if you're really into marketing, use the data to inform other strategies like:
A/B testing

CTA optimization

Social listening
After all, the more you know about your audience, the better you can serve them 💁‍♀️

 
Social commerce campaign examples
Let's take a look at some brands crushing this whole social commerce thing, shall we?
 
Kate Spade
Luxury fashion brand Kate Spade is killing it on Instagram with shoppable posts. Most of their posts have tagged products that users can click to learn more.
 

 
Not to mention, their latest campaign is all about Valentine's Day. And the posts are as shoppable as they are cute 🤩 Note the handbag icons on the majority of their posts.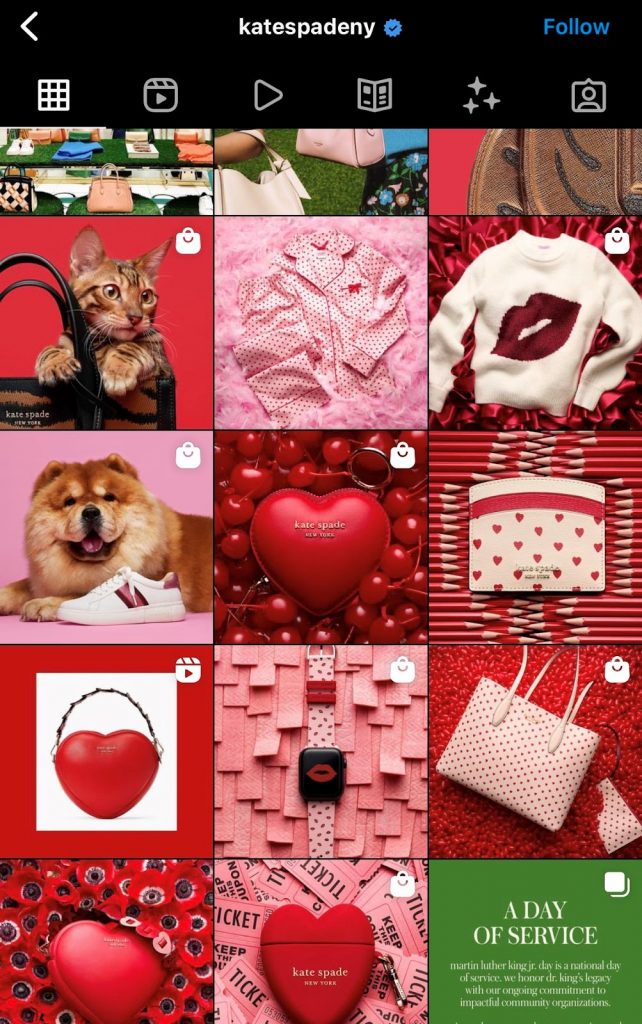 Allbirds
Another fashion brand dominating social commerce is Allbirds over on Facebook. They've got an impressive shop set up with great photos and product descriptions. Not to mention, they're always posting shoppable content, too.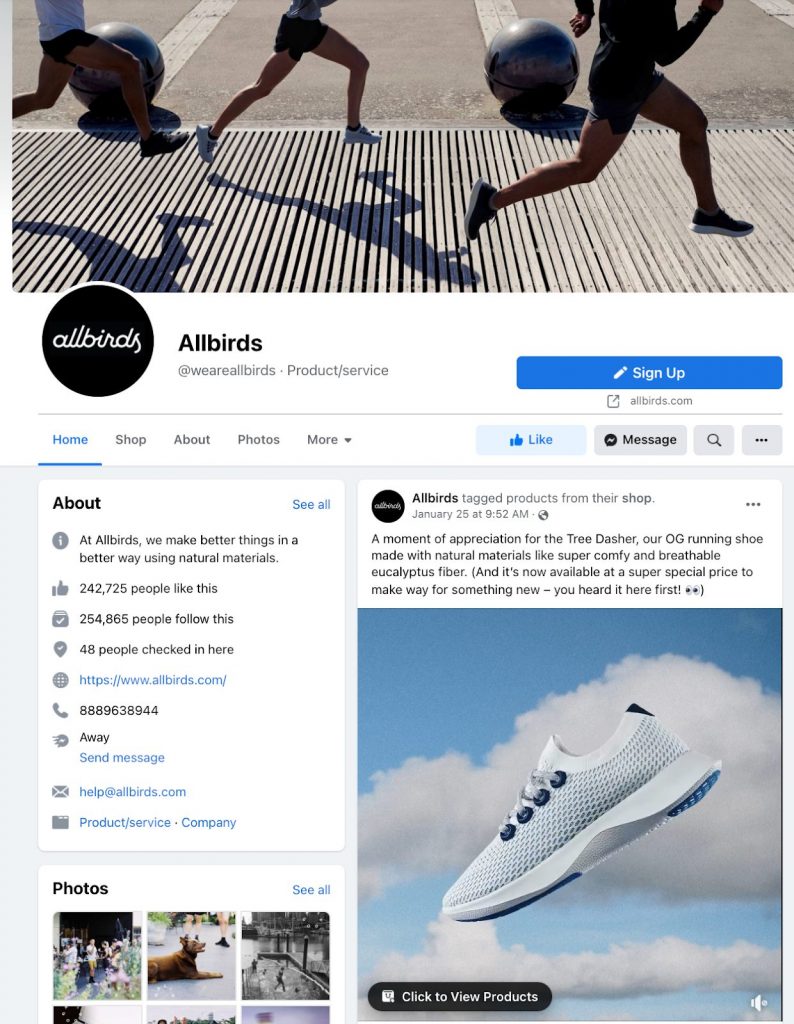 Benefit Cosmetics
Last but not least, we have cult-favorite cosmetics brand Benefit Cosmetics on Pinterest. We already covered how Pinterest isn't directly a social commerce platform. But we wanted to show how you can use the platform to your advantage.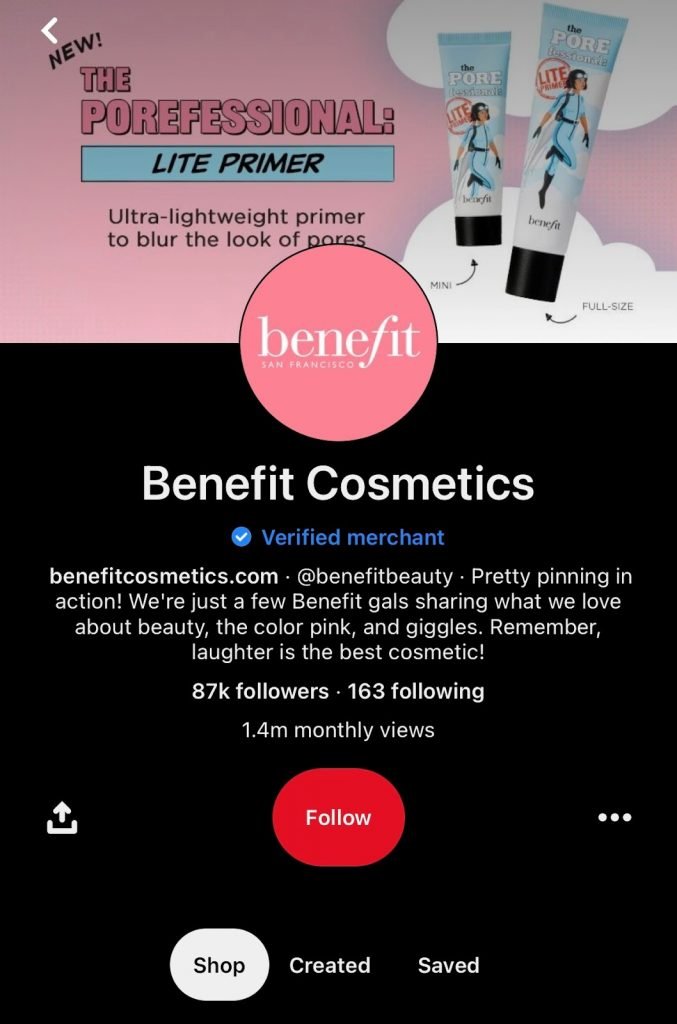 Benefit Cosmetics 87k followers and over a million monthly views. They've got a highly curated shop with awesome product photos. And they post shoppable Product pins showcasing their cosmetics.
 
Final thoughts on social commerce
Social commerce is here and it's growing faster than we could ever imagine. It's taking social media by storm and we gotta say, we're obsessed. So as you make your way into the social commerce space, here's a quick recap of everything we just covered:
Social commerce is shopping on a social media app (like Facebook or Instagram)

It's valuable because it doesn't disrupt the customer journey

And there's less friction with social commerce than there is traditional e-commerce

Facebook, Instagram, and TikTok all have direct social commerce features

Social commerce benefits brands because it builds awareness, it's easier for shoppers, and it provides insight into social habits
Make sure to subscribe to our newsletter! We don't want you to miss out on anything about influencer marketing, social commerce, and more.