There's no denying it. Instagram is the place for brands to get their message in front of the right audience. With over a billion active users, Instagram is a powerful resource in your toolkit.
 
And the secret sauce in all this? Instagram influencers.
 
Get ready to dive right in. This ultimate guide covers everything you need to know about influencer marketing including:
 
What is Instagram influencer marketing?
Instagram influencer marketing is a special type of social media marketing. Marketers use it to leverage trust between influencers and their fans on Instagram.
 
For example, an influencer endorses a health supplement's product in a post. Or they mention a skincare line in an Instagram live broadcast.
 
Influencers are experts in their niche. And they understand what makes their audience "tick." So when an influencer endorses a product, service, or idea, their fans listen. Such endorsements can yield more sales, engagement, or brand awareness for businesses.


Instagram is the most powerful social media channel
Instagram is home to over a billion monthly users, 500M+ daily users, and over 500k influencers.
 
In short, Instagram is where it's at. And brands have caught on.
 
2021 Instagram Marketing Quick Stats
Instagram influencer marketing should be in every marketer's playbook. But finding the right influencer to partner with is a challenge.
 
It's not just brands who've caught on to the value of Instagram. It's "wannabe" influencers, too. Influencer fraud accounts for billions in wasted marketing spend each year. Fake followers, bots, and false engagement put marketing dollars at risk. And even if you manage to find an authentic influencer, they still might be the wrong fit for your campaign.
 
 
How to choose Instagram influencers for your brand
Take a moment to imagine what your influencer marketing "best-case scenario" looks like. This will help you illuminate what you need in an influencer partnership.
 
Here's what marketers and brands can do when they need to figure out how to find Instagram influencers.
 
Know your audience
Before you advertise to potential customers, you have to identify and understand them. Let's illustrate this with an example.
 
You're a marketer for a fitness brand that makes pre-made protein shakes. The protein shakes solve a specific problem for a specific group of people. And since not everyone wants to be a bodybuilder, your target customer is more likely someone who:
 
Is on a fitness journey
Needs high doses of protein each day
Doesn't have the time or resources to make shakes from scratch
In short, your target audience has the exact problem that your business solves.
 
You can use this overlap to inform your:

 
Brand Voice
How your brand communicates with your target audience.

 
Ask yourself:
What does my brand "sound" like?
Examples:
Down-to-earth, inspirational, gritty, confident
 
 
User persona
A fictional person that embodies your end-user and informs marketing strategy. 
 
Ask yourself:
If all my customers rolled up into a single person, who would that person be? Who best embodies the customer I want to serve?
Examples:
Seventeen Magazine's Teena, Goodbye Crutches' Andy the Athlete, JetBlue's budget traveler.
Now let's bring these concepts together with a real-life brand that "gets" their audience. Bigelow Tea.
 
The decades-old tea company partnered with influencer and blogger Ashley Rene. The goal was to reach a younger audience on Instagram — and the results were astounding.


Why This Influencer Partnership Makes Sense
Bigelow Tea has been around for generations. They needed to spice up their message and connect with young women. This is where Ashley Rene comes in.
 
Rene has a solid following on Instagram with more than 30,000 followers and close to 1,600 posts. She also runs a lifestyle blog, Cherished Bliss. Her blog focuses on design and curated aesthetics in the Southern United States.
 
The campaign featured Bigelow's tea as a key ingredient in one of Rene's signature recipes. Complete with gorgeous photography, Bigelow's message targeted American women living in Southern states. And with a clear call-to-action, the campaign was a smash hit. The pair's partnership yielded 32k+ blog engagements and an 18.5% increase in sales.
 
 Key Takeaway:
Identify your target audience and take steps to understand your customers. Partner with an influencer who has the same audience.  
 
Goal
Strategy
Desired Outcome
KPIs
Increase brand awareness
Brand ambassador program
• Organic, grassroots growth
• More brand recognition
• Generate online "buzz" about your brand, product, or service
• Search volume
• Surveys
• Web traffic
• Social listening (online mentions)
Boost online engagement
User-generated content
• New customers interact with your brand on social media
• Conversations between customer and brand
• Form new connections
• Follows
• Likes
• Shares
• Comments
Drive sales
Promotions (special sales or coupon codes)
• Get more customers to use your product
• Increase word-of-mouth
• Quickly spike e-commerce revenue
• Sales growth
• Order numbers
• Number of leads generated
Identify your campaign's goal
Every influencer campaign should have a defined goal that can be measured. Here are some examples of popular influencer marketing goals:  
Increase brand awareness
Boost online engagement
Drive sales
Your campaign's goal should inform your influencer partnership. If your goal and choice of influencer don't match up, you risk a wasted marketing budget. This puts your message in front of the wrong audience.
 
For example, assume that you want to boost social media engagement. Don't partner with an influencer who prioritizes their website over their Instagram following.
 
So let's revisit the common goals listed above and show some examples of how each one might work. There are also some key performance indicators (KPIs) you can use to measure your campaign.
 
No matter what your campaign goal is, remember to partner with a real influencer. They should have an actual, measurable pull in their online community.  
 
Key Takeaway:
Define your campaign goals and KPIs. Then find an influencer who can help you meet those goals.    
 
Pinpoint your ideal influencer
Now you have a clear vision of who your audience is and what your goals are. So it's time to take the next step and imagine your brand's ideal influencer. Start with these questions to get the gears shifting:
 
Does My Influencer Have An Engaging Audience?
The answer should be yes. Followers engage by asking questions, sharing posts, and liking comments. When followers engage, it shows they're interested in what an influencer has to say.
 
Does My Influencer Interact With Their Audience?
This should be another yes. Followers should engage with influencers, and the opposite is also true. Influencers who answer comments, like posts, and share content build communal trust.
 
Does My Influencer Have A Lot Of Fake Followers?
Definitely not! Again, this goes back to the idea of trust. Influencers with tons of fake followers break trust with brands and authentic followers. Each of the questions above highlights quantitative characteristics. This means they're measured with hard data. But there are other characteristics that are qualitative. This means you have to do some critical thinking to figure out what's best for your brand.  
 
What Should An Influencer And My User Persona Have In Common?
Start by visualizing the user persona you crafted earlier in this guide and ask yourself:  
Who are they?
How do they use your product or service?
Why are they passionate about your brand?
Remember to explore demographics, too. Think about your user persona and how old they are, where they live, and what their hobbies are. Then use this information to inform who your ideal influencer is.  
 
How Do I Want An Influencer To Use My Product Or Service?
Reference your brand voice for help answering this question. Of course, you want an influencer to showcase your brand in a positive light. But consider the environment and message behind your brand in an Instagram post. 
 
For example, imagine you own a champagne brand. You might want a post of an influencer having brunch with friends and your champagne. But you might not want a post about how the empty bottle makes a great flower vase as sad music plays in the background. 
 
The first message conjures feelings of upbeat fun and comradery. The second one would be better promoting a new chill-hop album.
 
Does This Influencer Get Creative With How They Promote Brands?
Some brands want an influencer who will stick to a rigid script. Other brands are ready to let influencers do what they do best (i.e. connect with the audience). 
 
After all, influencers are experts on your target audience. So if you're open to creativity, your message is more likely to blend in with an influencer's organic content. But not all brands are ready to take the leap on this one yet despite the mounting evidence that it works.  
 
Has An Influencer Collaborated With Other Brands In The Past?
Your answer to this depends on your budget and if you want a larger-than-life campaign. For huge reach, you'll need a macro-influencer or even a celebrity. In which case, it's more likely than not they've partnered with other brands in the past. 
 
A brand partnership history can be a good thing. It shows an influencer is marketing savvy and they can resonate with audiences. Plus, it gives you an opportunity to check references and find out if an influencer is the right fit. 
 
But some brands are more interested in reaching a narrow niche, so reach doesn't matter as much. If this applies to your brand, you can partner with nano-influencers or micro-influencers. 
 
Influencers with smaller audiences may have never worked with brands before. But this gives you a chance to get in on the ground floor (so to speak). If you're the first brand to partner with an influencer, you get to reach fresh eyes. 
 
Key Takeaway:
Develop a crystal clear image of an influencer you'd like to partner with.

    
How to find Instagram influencers for your brand's next campaign
Now that you've defined your ideal influencer, it's time to find them in the wild. Use the insider tips below on how to find Instagram influencers to get started.
 
Use a third-party influencer management app
Third-party influencer tools make finding the perfect influencer easier for marketers and brands. Apps like Humanz let you search and filter through millions of Instagram influencers.  
 
Unlike most other influencer marketing platforms, Humanz doesn't rely on Facebook API access. This means influencers don't have to share login credentials or sacrifice security. And marketers can make smart decisions based on real-time data. Humanz retrieves data independent of Facebook and Instagram algorithms.
 
Humanz AI lets you skip over all the broken elements and gaps in influencer marketing. Instead, you can build relationships on trust and transparency. You can engage and collaborate in-platform, in a safe and efficient way. Plus, it's easy to see real-time data in a few clicks:
Real and authentic follower counts
Accurate engagement rates
Interests and niches
Location
Fraudulent activity
And more
 Find influencers based on gender, age, interests, shared content, and quality of followers. Since we built Humanz AI from the ground up, marketers can identify influencers of any tier:
 Once you've found the right match, you can reach out to make contact through Humanz AI. Then, manage your campaign all within the Humanz platform. Want to level up your influencer game fast? Get a free demo.
 
Search through your own followers
Instagram influencers are smart and marketing savvy. They know their way around Instagram. And there's a chance they've already followed your brand or marketing agency. 
 
Filter through your own Instagram followers to find popular accounts. You may identify a potential brand ambassador. This is someone who already knows your brand and is ready for a partnership. Reach out in a DM to get the conversation started and suggest a collaboration.
 
Pro Tip: Protect your brand (and your bank account) against fraudulent influencers. Always check stats on a third-party app before moving forward.
 
 
Find Instagram influencers who already engage with your target audience
If you don't mind extra legwork, you can reverse engineer an Instagram influencer search. Here's how:
Define your target audience
Identify where you target audience is on Instagram
Search through trending posts and comments to find popular accounts
Narrow your search to 10 – 20 of the most popular accounts
Vet each influencer against baseline metrics and your brand's campaign goal
 
Comb through every viable candidate and make sure they align with your goals. Reach out to the influencers who seem like the best fit. Or Humanz can run a thorough search for you in seconds.
 
Identify Instagram influencers who collaborate with your competitors
You and your competitors share a target audience. And chances are, your competitor has already invested in influencer marketing. 
 
Scope out your competitor's website, LinkedIn, Instagram, and other social media platforms. Look for sponsored posts or partnership announcements. From here you can find out which influencers they currently work with, or have worked with in the past. 
 
But before you reach out to anyone, do your homework:
 
Search For Press Releases About The Partnership
If the influencer partnership made headlines, it could do the same for you. Notice whether the campaign garnered positive or negative attention, though. 
 
For example, remember Pepsi's infamous 2017 collaboration with Kendall Jenner? It invited backlash and criticism, instead of sales).
 
Analyze The Influencer Campaign Performance Data
You might get lucky and find that someone else has already dug up the data for you. Find out which marketing agency handled your competitor's influencer campaign. There's a chance the agency released a campaign performance report or case study about it. 
 
Use the data to help decide whether this influencer would be a good fit for your campaign.
 
Vet The Influencer Against Baseline Metrics
Vet, vet, vet. Then vet some more. Cold hard data is the best line of defense against:
Bad press
Wasted budgets
Poor campaign performance
Always check for fraudulent activity like fake followers before signing a contract. Marketers use apps like Humanz AI to vet influencers against baseline metrics. And Humanz is different from other "influencer checkers" because we don't rely on Facebook's API. This means our real-time data is accurate, and independent from Facebook and Instagram.
 
Consult the almighty Google
When you need to figure out how to find influencers on Instagram, you can start with lists. New "Top Influencer" lists publish online every day. The key is figuring out which list is best for your brand. 
 
Narrow your search by niche, location, and platform. Here are a few formulas to help you get started. 
 
"top [niche] influencers [month] [year]"   
 
For example, if you're a marketer for a skincare brand, your niche might be on of the following:
Skincare
Women's skincare
Acne
Anti-aging skincare
K-Beauty
Then to make sure your search pulls up the most recent results, include the month and year. Your final search might look like this: 
 
"top k-beauty influencers july 2024"   
 
To get even more specific, include a location in your search string. So if your K-Beauty brand targets women in Canada, your search could read: 
 
"top k-beauty influencers canada july 2024"   
 
And the more localized your brand is, the smaller your geographic search should be. For example, let's say your K-Beauty brand only sells products in a Vancouver, CA brick-and-mortar storefront. You'll need an influencer who lives (and has an active following in) Vancouver. 
 
Remember to narrow your search by platform, too. Some marketing agencies release "Top Influencer" lists based on individual social media apps. This is because some influencers are bigger on Instagram than they are on TikTok, and vice versa. 
 
Once you've found the most relevant list of top influencers, look them up on Instagram. If you like their metrics and style, consider reaching out to ask for a collaboration.
 
Leverage hashtags to your advantage
Hashtags are a great (and fast) way to explore Instagram influencers. First, use an online tool to identify trending hashtags relevant to your niche, brand, or product. For example, if you type in "skincare" you might pull up results like this:
#skincareroutine
#skincareproducts
#skincarejunkie 
 Then use Instagram's search function to retrieve Top Posts with the hashtags you've chosen. First, tap the magnifying glass icon. Then type in the search bar and choose "Tags."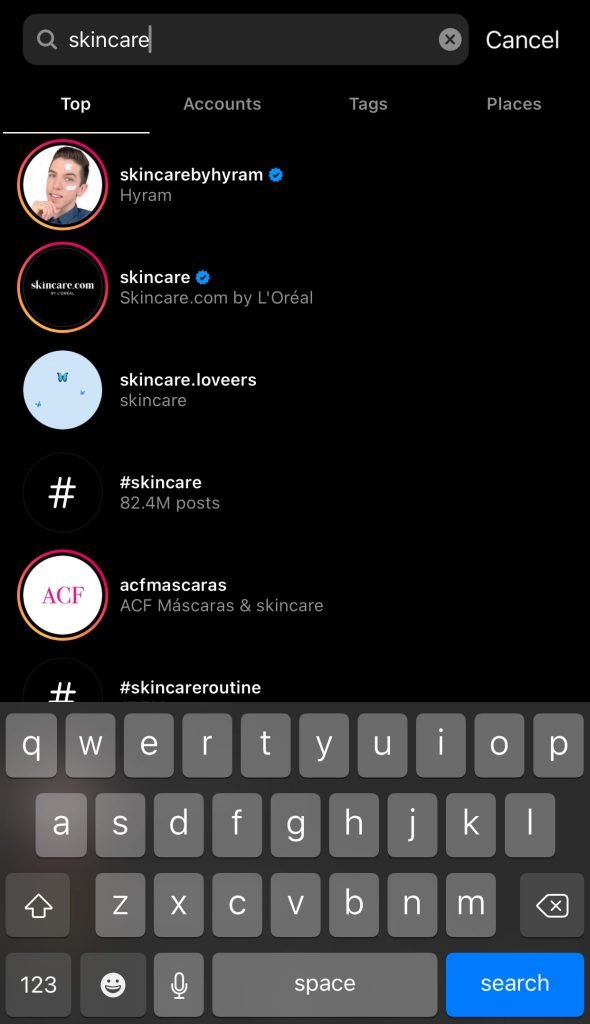 As you scroll, check out profiles that posted the top-performing content.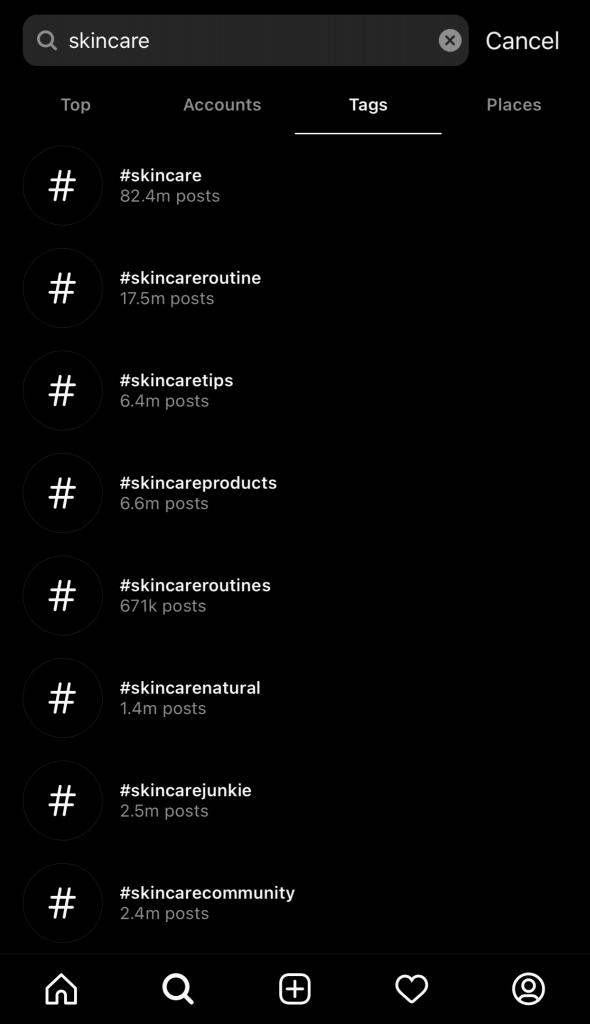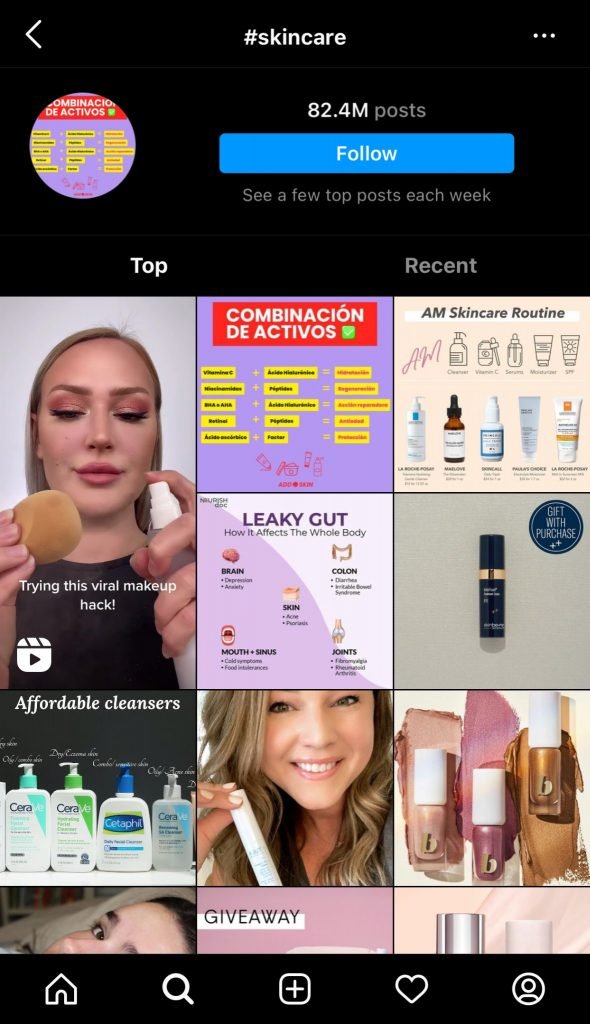 Profiles with high engagement rates and follower counts are prime candidates. Check their data against baseline metrics. You can also scan profile bios to learn how they identify (e.g. blogger, influencer, entrepreneur, and so on).  
 
Investigate high-profile blogs in your niche
Influencer marketing isn't limited to famous Instagrammers. Bloggers have been around for decades and they're as prevalent today as ever. Search for well-known bloggers who connect with your target audience. You'll oftentimes find they have strong online followings as well. 
 
Start with a Google search to find high-profile bloggers who share your audience. Try out search strings that include your niche and location. Don't forget to include the current year to pull up the most up-to-date results. Here are a few examples:
 
"top travel bloggers tel aviv 2022"
"famous fashion bloggers south africa 2023"
"must follow israeli bloggers right now"   
 
Run high-profile blogs through online tools to identify key data points like:
Unique visitors
Return visitors
Organic traffic
And more
 Plus, bloggers can engage audiences and solve unique problems specific to their niche. If your brand solves a problem, find an engaging blogger who discusses the same issue. Most bloggers have a contact form to connect with readers, brands, marketers, and so on. Reach out to discuss a potential social media partnership.
 
Expand your search to micro-influencers
Don't overlook influencers with smaller audiences. Micro-influencers have the power to build tight-knit online communities because:
Micro-influencers have highly targeted content
Micro-influencers have more time to engage audiences
Micro-influencers are experts in their niche
More and more brands look to micro-influencers for high-performance campaigns. On average, brands invest 47% of their influencer marketing budgets on micro-influencer partnerships. This is because there's more intimate engagement in these smaller communities. 
 
For example, micro-influencers on TikTok yield over 9% engagement. But macro-influencers who have larger audiences yield about 5% engagement. 
 
You can use third-party influencer marketing apps like Humanz to identify competitive micro-influencers. The app's sophisticated AI quickly identifies influencers based on criteria like:
Location
Followers
Interests
Hashtags
Engagement
And more
Skip sifting through Instagram by hand. Instead, partner with Humanz to find micro-influencers that match your brand.
 
Let Instagram's algorithms find influencers for you
If you're an avid Instagram user, you've noticed two important ways the app finds new content for you:
 
The Instagram Suggested Posts Feature
– When you scroll to the very end of your feed, you'll notice Suggested Posts
– Instagram uses a sophisticated algorithm to populate new content. It's tailored to your interests and app behavior
– Instagram also injects Suggested Posts into your regular feed. The suggested content comes from accounts you don't follow
The Instagram Explore Page
– Tap the magnifying glass in the Instagram app to open the Explore Page
– Enter in a hashtag, keyword, or location to pull up posts related to your search
– Tap on a post in the search results to pull up more content related to that post
 
Instagram's Suggested Posts and Explore Page algorithms are powerful, to say the least. And you can use this AI to find Instagram influencers. For example, you want to find travel influencers in Kenya.
 
Scroll through your Suggested Posts feed until you find a relevant profile. Or, you can search the Explore Page to identify influencer accounts.
 
 Key Takeaway:
As more brands and marketers compete to find the best influencers, it's critical to start your search now. Get creative and use different methods to identify influencers with the best brand fit.  

 
Summary: Find the best influencer for your brand
There you have it. Every detail you need to identify influencers for your next marketing campaign. To wrap up, here's a quick breakdown of everything you learned.
Understand your target audience and identify campaign goals. Do this before you partner with an Instagram influencer
Ask tough questions to illuminate who your ideal influencer is
Use different methods to find the right influencer for your campaign
Always, always, always use a third-party platform to vet influencers