Any successful influencer collaboration starts with a great brief. The Humanz platform lets you create detailed yet easy to understand briefs for different types of collaboration from sponsored content, event attendance or trade exchanges to content commissions and influencer surveys.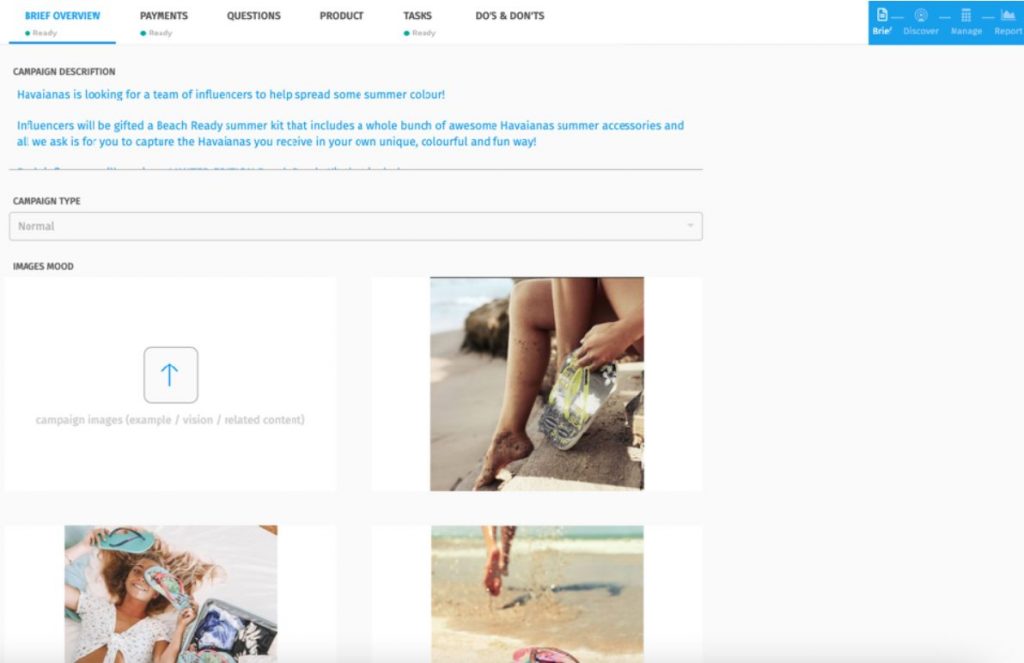 The Overview tab lets you select the type of campaign you are after, a short description of what you hope influencers will help you achieve and what's in it for them, mood boards for inspiration and information on your target audience. If you are trying to drive potential customers to a specific online destination, you can create your own vanity URL here and what webpage it should point to. You can customise the links and redirects per influencer further down in the process as well. The Payments tab lets you set your maximum budget, currency and how soon you are offering to pay influencers once they complete their task. This is also where you can define whether the campaign will be public and allow influencers with the Humanz app to bid, or remain private and visible only to influencers whom you invite. The Questions tab lets you ask qualifying questions to influencers before they can bid on your campaign or accept your invites. Want to know if they have worked with a competitor before? If they already purchase your products? Or what their shoe size is? This is the place to ask. The product tab lets you add important information about your products that influencers should be aware of, including its value. If you intend to gift the product to influencers, you can select that as an option here and include details on how they can expect to receive or collect it.
The Tasks tab is where you build your primary content calendar with the content you expect influencers to create and post on different channels as well as hashtags they should use or handles they should mention. Mandatory disclosure hashtags are included by default. These specific tasks are the ones that will be visible to influencers who bid on your campaigns. For influencers you invite, you can customise these tasks individually for them further in the process. The Do's and Don'ts tab asks you to summarise your key expectations of influencers with regards to their content or behaviour during the campaign. Any important clauses in your contract should also be represented here in easy to understand language. A great influencer collaboration is built on mutual trust and the best way for you to start it is through a clear and comprehensive brief.