Running influencers can be extremely time consuming and resource intensive. Humanz makes the entire process simpler and more streamlined by pushing all approvals and communications through one platform. You can send broadcast messages, voice note or attachment to all influencers at each stage of your campaign, or send individual ones instead.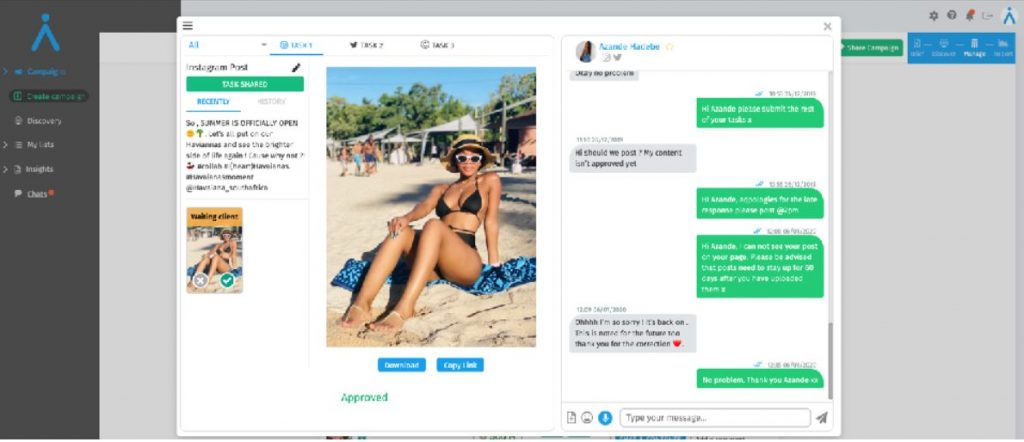 Once influencers have been added to your campaign, they will submit content for your approval. You can then approve or provide detailed feedback on the individual tasks and options they sent you. You can even send it on to your customers or colleagues directly via the interface for their feedback too.
You can also customise individual influencer links and where they redirect to, whether a custom shop page, or to include tracking parameters for your own analytics solution.
You can add status notes or tags to each influencer and download a spreadsheet status document of your campaign. You can also set individual reminders for them of when specific content is due to be sent to you or posted.
You can choose what parts of the campaign you want to share with clients or colleagues, from the initial brief and list to specific content for approval and the campaign report. Each section lets you further choose what to show or not.
Finally, once influencers have completed their tasks and linked their posts, or you have done so on their behalf, you can check the status and expected dates of their payment and upload or download their invoices. Remember to rate influencers and include feedback as a last step.
No one has said running influencer marketing campaigns was a breeze. But nearly all of our customers agree that it doesn't have to be a pain either.